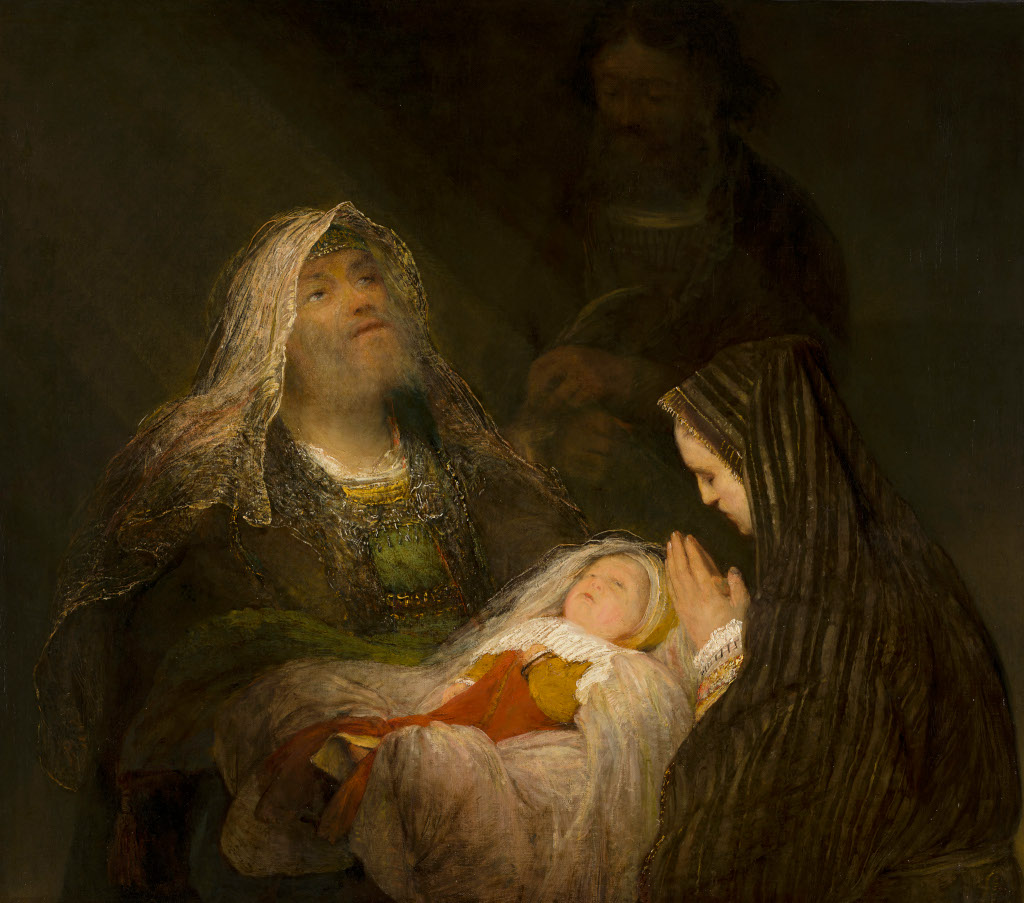 Simeon and Anna Praise the Infant Jesus
Arent de Gelder
"Behold, this child is appointed for the fall and rising of many in Israel, and for a sign that is opposed (and a sword will pierce through your own soul also), so that thoughts from many hearts may be revealed."
(Luke 2:35)
When Mary and Joseph brought Jesus to the Temple to fulfill the Law's demands to dedicate the firstborn and for Mary to be purified, a righteous man named Simeon recognized the importance of their child saying "Lord, now you are letting your servant depart in peace, according to your word; for my eyes have seen your salvation that you have prepared in the presence of all peoples, a light for revelation to the Gentiles,
and for glory to your people Israel." (Lk. 2:29-32) Looking at this child, Simeon saw our salvation. This is Good News. But he warned Mary that her soul will be pierced as she will witness His crucifixion.
Paul reminds us, "But when the fullness of time had come, God sent forth his Son, born of woman, born under the law, to redeem those who were under the law, so that we might receive adoption as sons." (Gal. 4:4-5) When a law is written, there is a penalty attached to it for those who break it. If I break a traffic law by going faster than the speed limit, I must pay a fine or lose my license. When we break God's Law which is perfect, we pay a fine called death. The penalty is eternal punishment. (Rom. 6:23) The Law is meant for lawbreakers not for God. Those who are born of God, his heirs, do not need the law. (Gal.5:18)
When we are born again, we are born of God. He adopts us as His own and we become His heirs inheriting eternal life, not eternal punishment reserved for the lawbreaker. When we compare ourselves to the Law taking an inventory of our thoughts and deeds, we see we are nothing more than lawbreakers. In other words, our hearts have been revealed. Before Jesus grew up, Simeon could see in this Child our salvation. Jesus would teach us His Father's will and then go to the Cross to suffer under the Law! Only Jesus could perfectly fulfill the Law.
Those who are born again walk by the Spirit of God as Spirit gives birth to spirit. (John 3:6, Gal. 4:6) Let us measure our thoughts and deeds to the Law of God. And let us accept with faith Jesus fulfillment of the Law's demands for this is Good News.