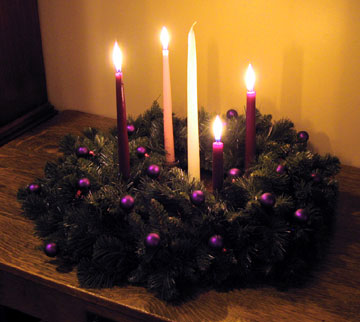 We are now in the Advent season. The word Advent comes from the Latin adventus which means coming. It is used to translate the Greek word, parousia, which means arrival or official visit. In the Church we recall Christ's birth as He came into the world and we look forward to His second coming as He gathers the elect unto Himself at the end of time. Into the world Jesus came and out of the world we will be rescued. (Mk. 13:27)
Our world is a place that is hostile to God. (John 15:18) Israel continually prayed to be saved from their enemies that surrounded them. (Lk. 1:71) But all too often, Israel succumbed to the very practices that they were to witness against. It's easy to be a part of the world. In the United States, many people will be spending time and money buying gifts for others and taking advantage of sales for one's personal desires. Buying gifts and looking for bargains do not seem to be bad things but our society has used the Nativity season as an excuse to encourage consumerism before the end of the year's accounting for corporate shareholders. And with that comes the exposure of human sin. This past Black Friday saw the use of pepper spray by a customer in order to get ahead of another customer. Fist fights broke out over waffle makers. The list goes on and on. When Jesus returns, what will He find? And more to the point, who will He gather unto Himself?
Advent is a time to call the world to repentance. It's what John the Baptist did! It's what Jesus did! It's what the Apostles did! And it is what the Church does for the world is hostile to God! Covetous is idolatry according to St. Paul. (Col. 3:5) We are to be content with what we have! (Heb. 13:5-6)
ALMIGHTY God, give us grace that we may cast away the works of darkness, and put upon us the armour of light, now in the time of this mortal life in which thy Son Jesus Christ came to visit us in great humility; that in the last day, when he shall come again in his glorious majesty to judge both the quick and the dead, we may rise to the life immortal; through him who liveth and reigneth with thee and the Holy Ghost, one God, now and for ever. Amen. (Collect for the First Sunday in Advent.)
Do you recognize the darkness of our world?